Shandur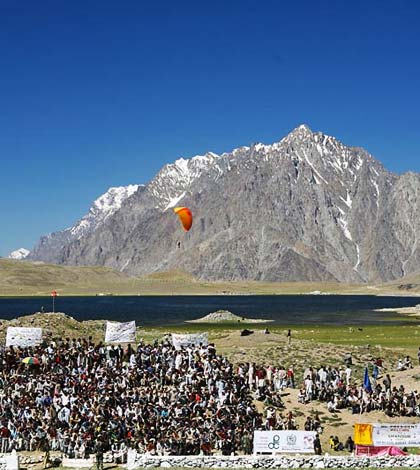 Shandur Top situated at an altitude of 12,500 feet (38000 meters) above sea level is famous for having the highest polo ground of world. It is sometimes called Roof of the World. It is located in District Ghizer, Gilgit–Baltistan, Pakistan. The version of polo game played in Shandur Polo Ground is considered to be the purist of all. It is also called free style polo.
Polo is the most favorite game in Gilgit-Baltistan region of Pakistan. Gilgit, Skardu, Hunza, Shigar, Laspor, Mastoj, Chitral and all other valleys around must have at least one polo ground, where local people can be seen playing polo.
Shandur can be reached from Gilgit and Chitral. It is about 197 kilometers (122 miles) from Gilgit and 147 kilometers (91 miles) from Chitral. When coming from Gilgit to Shandur one can see the charming valleys of Gahkuch, Gupis, Phandar and many beautiful lakes. When coming from Chitral one can see the beauty of Mastuj and Surlasp valleys.
Shandur Polo Ground is naturally designed to be a polo ground. Small hills are on all four sides of rectangular ground, where spectators can sit and enjoy the match. The surrounding landscape and Shandur Lake makes it even more beautiful.
The beautiful polo ground of Shandur turns into a city of tents each year between 7 and 9 July due to Shandur Polo Festival. A match of polo is held between teams of Gilgit and Chitral. A great number of tourists and spectators from different areas of country especially from Hunza, Skardu and Chitral come to attend this event. Shandur Polo Ground is located at an altitude of 12,200 feet (3,700 meters) and it is very hard to play here due to reduced amount of oxygen. It requires a lot of stamina and players must be physically very strong. The match is always marvelous because cream players from Chitral and Gilgit participate in it.
Shandur Polo Festival is continuously being held each year since 1936, and it is now a very famous event for tourists throughout the world. Now activities like paragliding, folk music and dances are also held along with polo, making it even more enjoyable for tourists. PTDC and other tourism companies establish a tent village for the tourists during the event. But most of tourists bring their own camping gear. Remember to bring warm clothes because it is very cold here especially after the evening.